With the upcoming Olympic games in the UK and it's associated buzz around Europe, Arriva have decided to join the sporting spirit.  This year for the first time ever we have the Arriva Bendy-bus Rally Of Malta (ABROM), we are expecting this to be a week long yearly event, though organisers have indicated that if successful it may continue for the entire summer.  One hopes that in this case they get a good scoring system otherwise it could leave for frustration amongst the waiting spectators.
Today's action comes live from the Marfa Road, Rabat where the first stage of "Bendy Bus Off-roading and illegal manouvers" can be seen: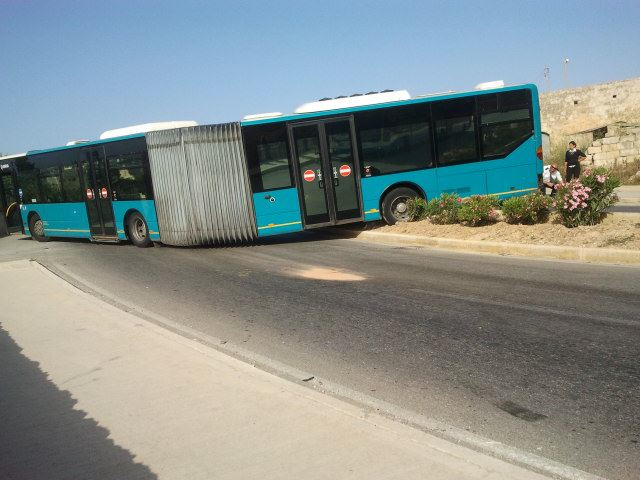 Please join us tomorrow for the second event at Ahrax, Melliha where we will be searching for Malta's Strongest bus.  Each contestant will test their buses true Air Brake strength by driving off the Cliff.
Day three will be held at the on the Island of Gozo where each bus will be tested for it's handling and speed in an unbraked race down to the Azure window.
Day four will begin with a test of swimming endurance where each bus will attempt to return from Gozo to the main Island of Malta, without the convenience of the Gozo ferry.
Day five will be held in the Maltese capital of Valletta where each bus will attempt to negotiate and random turn route through the narrow streets which will be lined on one one side by continuous line of legally parked vehicles of all shapes and sizes, whilst the opposite sides of the streets will have a random dispersal of illegally parked delivery trucks and white cabs.  This should prove one of the more interesting events to spectate as some of the route will be blocked completely by parlimentary cars, and unplanned/unsigned road workings requiring the driver to turn his bus around, or face a long retrace of the route in reverse.
Further events are planned for next week, please see the official rally website http://www.arriva.com.mt/ for more details.