What is it with me, I seem to attract trouble at the moment, either that or I just don't take s**t like others do…
So I'm not going to talk about the ripoff known as Ebay seller StuffUSell who sells stuff that they know doesn't match the description… that's Ebay and par for the course… No this is about someone you would think would know better… Amazon…!
Yeah the price of globalisation.. they're so big in every country that when searching for stuff you don't even see Ebay at the top of the list anymore, you just see 100's of Amazon links leaving you little choice about where you can purchase items…  Even if they can't/won't deliver.
Many of you the readers know I live in Malta (Europe, not the town in the USA) it's a small island in the middle of the Mediterranean sea and unfortunately getting stuff that is available to the rest of the world can be a task… and it's not cheap (sometimes as much as double to RRP.)  For this reason I often use online services such as Amazon to get what I need at a reasonable price, paying extra for shipping.  Obviously because of Tax and VAT I prefer to order from Amazon EU/UK where ever possible.
So what is the subject about, you're thinking.. well simple are you in Europe, are you thinking about ordering a computer/tablet for Christmas 2013…?  Well my advice is avoid Amazon at all cost as you might find yourself without what you are waiting for until after Christmas, with the excuse the Item you are ordering has a HAZMAT sticker on it and we can't ship it to you…
Here's the screenshot of the item I ordered over a week ago.. (click for hi-res version)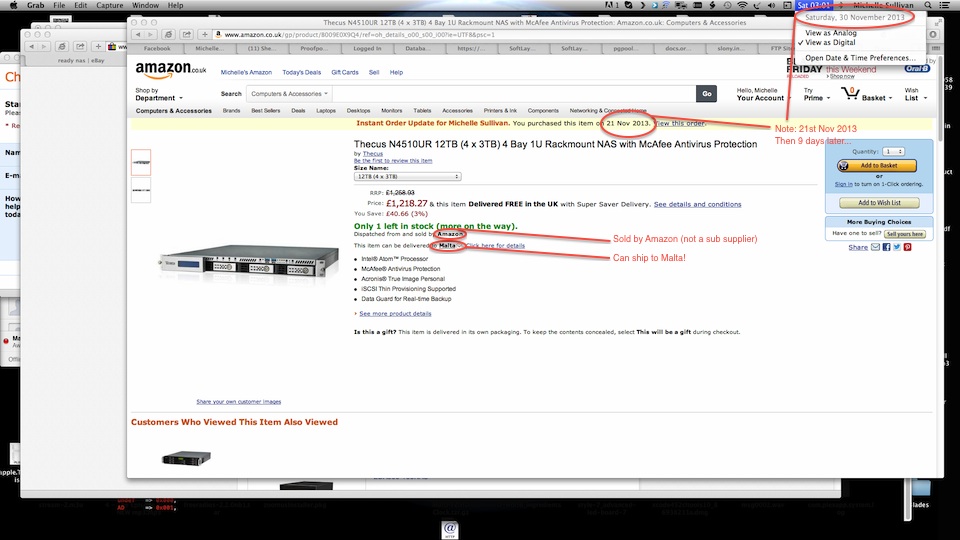 So as you can see 'Ordered on 21 November 2013' .. however lets take a look at 'My Orders' (click for hi-res)…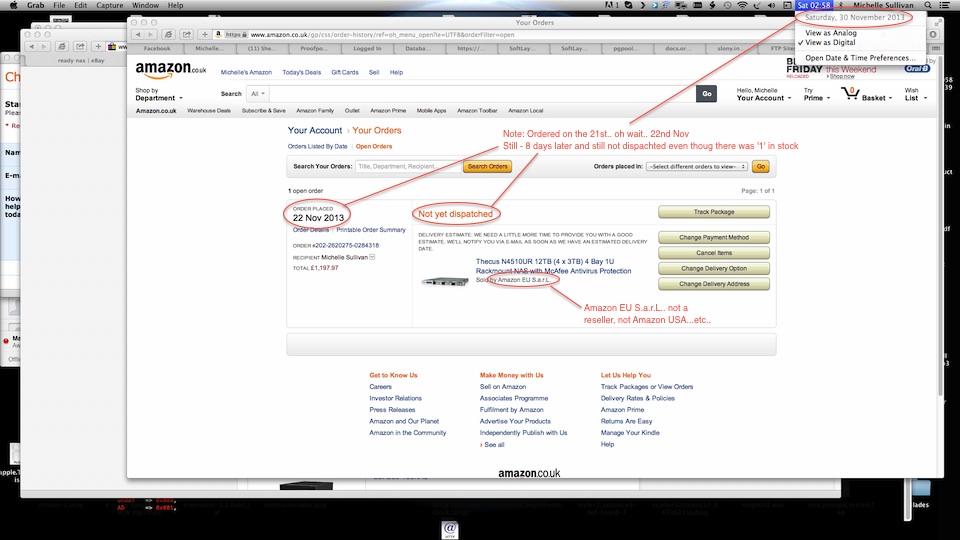 So I didn't get any delivery, so I checked the order status, found it not yet dispatched so I got onto Customer Support (politely at first)… and after 24 hours I got this response:
 Hello,

I am writing to let you know about your order #202-2620275-0284318.

I have received an update from our fulfillment center stating that this item has been held up at JKPT this is because the item has been identified as having HAZMAT control on it and therefore can not be shipped to the address used as we can not ship this type of product to an overseas address.

I hope this helps you.

We loo forward seeing you again soon.

Warmest regards,

Ruban S.
It's like 'WFT?!?!?!' HAZMAT?!?!??!  its a computer – it doesn't even contain battery backup batteries!!
I got back to Customer support (again politly(ish) at first).. and couldn't get a response as to what "JKPT" is … eventually I persuaded the Customer Support person to email me later what it meant, I got the following:
Hello,

I'm writing regarding your order #202-2620275-0284318.

Please be informed that, JKPT is a condition that an item is put into when we have no shipping method for the item due to HAZMAT regulations. It is usually to either an overseas address or a PO box address, locker or a parcel motel type place.

If we can be of further assistance, you can reply directly to this e-mail. You can reach us by chat or phone from this link:

http://www.amazon.co.uk/contact-us

Customer Service can be reached by phone and chat 7 days a week 06.00 to midnight, local UK time.

If you need to call us, we can be reached on Freephone (within the UK) 0800 496 1081. International customers can reach us on +44 207 084 7911.

We look forward to seeing you again soon.

Warmest regards,

Babuvignesh S.
At this point I got a little narcky and phoned them on the 0800 number for the UK and pointed out, that the address for delivery is a real address that they have delivered to previously, and that whilst they are correct 'overseas' pretty much everywhere in Europe could be classified as such if the origination point is Jersey as they previously indicated… and again the response:
 Hello,

Regarding your Order No: 202-2620275-0284318, we've got an update from our fulfilment team:

"  I'm sorry but this item has been held up at JKPT this is because the item has been identified as having HAZMAT control on it and therefore can not be shipped to the address used as we can not ship this type of product to an overseas address "

Warmest regards,

Thangjam M
Then 24 hours later I get this:
Hello,

I'm sorry for the inconvenience caused to you with the restrictions to Malta.

I do understand your concern regarding the item being allowed to ship to Malta.

I've checked and can see that my colleague has already contacted appropriate department to investigate this issue.

As it is not yet possible to provide you with a resolution, we continue to work hard to provide an update and we still expect to be in contact with you on the date provided by my colleague, November 29, 2013.

Please accept my apologies for the inconvenience; we want to be sure to address this matter as thoroughly as possible.

If you don't hear back from us by November 29, 2013, please contact us again by replying directly to this email.

I hope this helps. We look forward to seeing you again soon.

Warmest regards,

Imran A.
So the moral, if you want/need something quick (even as a business user buying business class items) don't bother with Amazon, and certainly if it's a computer or tablet (as tablets are computers).. go down the high street and buy over the counter – even if it costs more or takes your time, at least you'll get it, and the shop is likely to be still there next time you need something!!
UPDATE [5th December 2013], this just in from Amazon:
Hello,

We're writing about your Amazon.co.uk order 202-2620275-0284318 which included the following:

——————————————————

B009E0X9Q4

Thecus N4510UR 12TB (4 x 3TB) 4 Bay 1U Rackmount NAS with McAfee Antivirus Protection

——————————————————

Unfortunately, due to delivery restrictions on such items, we won't be able to send you this item and have cancelled it from your order.  This is because this item contains flammable, pressurised, corrosive, environmentally hazardous or otherwise harmful substances classified as dangerous goods under the European Agreement concerning the International Carriage of Dangerous Goods by Air.

Although the amount of these substances in these products is usually quite limited, these products need to be transported in a certain way to ensure that they are handled with care and are therefore assigned to a specialist carrier.  Unfortunately this means that we can't dispatch this to any destination outside of mainland UK.

We're sorry for any inconvenience caused and hope to see you again soon.

Warmest regards

Customer Service Department

Amazon.co.uk

Please note: This e-mail was sent from a notification-only address that can't accept incoming e-mail.  Please don't reply to this message.
So there you have it, if you are buying a computer from Amazon (UK) and are not in the UK they cannot and will not ship the item – even if it is marked as being sold by Amazon Europe (S.a.r.L.) and even if it is marked as available for delivery to your country…
UPDATE 2:  Bit the bullet today, and went to one of the local computer stores and bought the non rackmount version of the NAS, found for €1123.00 (less than Amazon) I was able to get a 16TB version.. then I thought about it…  We're on an island, everything is flown in.. but wait, Amazon said it was a HAZMAT marked item….!